TBILISI STATE MEDICAL UNIVERSITY
Overview
Tbilisi State Medical University is a leading medical university in Tbilisi, Georgia. More than 85 years have passed since Tbilisi State Medical Institute was founded on the basis of the faculty of Medicine at Tbilisi State University. In 1992 Tbilisi State Medical Institute was renamed in Medical University.
City : Tbilisi
Nearest Airport : Tbilisi Airport (22.7 km)
Established Year : 1918
Gov/private : Government
The university is one of the leading medical universities of Georgia. More than 100 years have passed since the time the university was founded. The university has about 7500 undergraduate and 3000 postgraduate students. Out of these about 25% of the students come from abroad. The university has been listed by organizations like the World Health Organization. Some other organizations that have recognized it are European Commission for Education, MCI etc. The university provides degrees in the field of Dental, Medical, Nursing, Surgery and Pharmacy. The quality of teaching has made its rank 7th in Georgia and 6279 worldwide. The university follows and extremely healthy student teacher ratio. In addition to this the teachers of the institution are extremely helpful towards the students.
Tbilisi State Medical University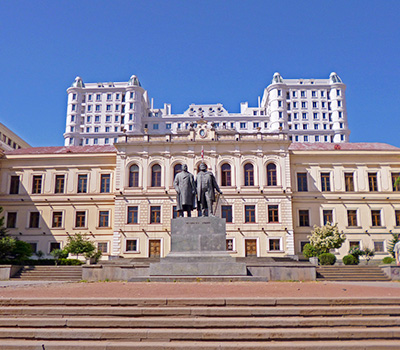 FEE STRUCTURE - 2021
| YEAR | TUITION FEE(USD) | HOSTEL FEE(USD) |
| --- | --- | --- |
| 1 | 8000 | 3000 |
| 2 | 8000 | 3000 |
| 3 | 8000 | 3000 |
| 4 | 8000 | 3000 |
| 5 | 8000 | 3000 |
| 6 | 8000 | 3000 |