MBBS in Bangladesh
Study MBBS in Bangladesh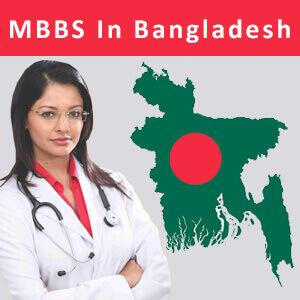 With the 25 public universities and 50 private universities for medical education, MBBS in Bangladesh is a good choice for Indian students. It is one of the low-cost MBBS programs among foreign countries for Indian citizens.
Students have to clear the eligibility criteria of the government of Bangladesh for MBBS admission in Bangladesh. According to the eligibility criteria of Bangladesh, they choose the best of the students which improve the quality of MBBS in Bangladesh.
The quality of teaching of Bangladeshi Medical Universities reflects by the NMC passing percentage of MBBS in Bangladesh which is quite higher than any other country, i.e. 27-30%.
Apart from the quality, the cost of MBBS in Bangladesh is also a positive point. The fees of MBBS course in universities in Bangladesh is very low as it comes under the SAARC quota admission criteria.
The students who graduate from the best medical universities in Bangladesh are eligible to appear for major tests like the USMLE, PLAB the screening examination conducted by NMC and can practice in any country across the globe.