DALI UNIVERSITY
Overview
Dali University is a multi disciplinary comprehensive university run by the Yunnan provincial government. And Dali University is Ranked No.1 in Yunnan Province. It has 2 campuses, Hehua campus and The Ancient Town Campus, all located within the city of Dali covering a total area of 3,00,000 sq.mt. The beautiful and serene environs provide an ideal sowing ground for the pursuit of academic excellence. Besides, the scenery of Dali is considered to be second to none in China. The university attaches great importance to scientific research and has undertaken more than 171 scientific research programs including 9 national level programs winning the provincial science award. It employs 971 full-time teachers, 409 professors and associate professors. it has completed many international national and provincial level research projects. And it has two university Hospitals with over 1100 doctors. The University has been awarded 24 provincial research prizes and 67 National Patents. Dali University currently have 17000 full time students from 19 countries Including United States, England, Belgium, Russia, India, South Africa, Burma, Korea etc.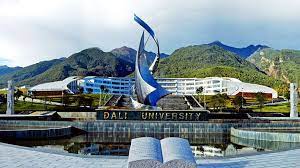 | | | | | |
| --- | --- | --- | --- | --- |
| Affiliation | Dormitory | Medium of instruction | Food | Eligibility |
| The college is under the provincial government of Yunnan and is listed with the World Health Organisation (WHO) International Medical Education Directory (IMED) and Medical Council of India (MCI). | Spacious and comfortable dormitories provided with modern amenities. The dormitories are 4 sharing and are provided with attached baths. The Dormitories are separate for Boys & Girls with adequate security. | Medium of Instruction is English but study of Chinese language is compulsory in the 1st year which can be extended. This is for facilitating effective interaction during clinical period and comfortable stay. Passing of the HSK (Chinese) is mandatory. | Hygienically prepared nutritious food available. Although Chinese cuisine predominates in the canteen, And India Food is available. | 10+2 with minimum 65% marks in Physics, Chemistry, and Biology. And 50 percentile score in NEET. |
Infrastructure
Hospital
The Dali University Hospital covers a total area of 8.6 hectares with a construction area of 53600 square meters. It has 1500 inpatient beds and 31 clinical departments. The Hospital is equipped with advanced medical equipments, such as Hitachi 7180 biochemical analyzer, Nephro Care haemo dialysis machine, Olympus hysteroscope , in order to meet the requirements of higher medical education. During the past ten years, the hospital has successfully conducted many new and complicated Surgeries, including the first Test-Tube Baby (In Vitro Fertilisation) of western Yunnan province, RF pedicel vertebral arch, bone screw treatment of spinal fractures, total hip replacement, giant Dextroacoustic Neuroma-Ectomy in Cere Bellopontine Angle, Cardiac Surgery on beating heart. In 2006, the hospital's Telemedicine center was put into operation which will act as a platform for the hospital in developing more sophisticated items with high tech equipment.
Academics
There are more than 1500 staff members & 700 professors with ranks of professors or associate professors. There are 15 colleges including that of clinical medicine. In addition there are 5 scientific Research Institutions and an Affiliated Hospital & a Medicine Research Institute Scientific Research Dali University also attaches great importance to Scientific Research & Development and has undertaken 171 scientific research programs, including 9 national & Provincial Natural Science Fund programs and 21 programs winning the provincial science award. The scientific research pool has compiled 116 textbooks and published over 3000 papers both at home & abroad.
Admission
Program
International MBBS Program
Eligibility
10+2 with a total 65% marks in Physics, Chemistry, and Biology. Admission will be based on high school credentials and Admission Test/Interview.
Medium
The medium of instruction is English at Dali University
MCI
Qualifying NEET Examination is Mandatory to pursue Medical Education Abroad (MBBS or its equivalent) by an Indian.
Duration
5 years Studies and 1 year Internship. Internship may be done either in the university or in the home country.
Eligibility
Citizen/Overseas Citizen of India, as per Indian Medical Council Act, 1956.