Asfendiyarov Kazakh National Medical University
Overview
Kazakh national medical University is a milestone in the history of education,medicine and the country asa whole. These are traditions that have become the basis of professionalism. It is a large medical fraternity,the connection of times and names, time for energy of scientists and teachers. The University,which builtits foundation on the basis of science, education and practice, can rightly be proud of its achievements.Quality organization of training, scientific and clinical activities, high level of qualification of doctors,recognition medical community has become a visiting card of KazNMU.
City : Almaty
Nearest Airport : International Airport, Almaty,Kazakhstan (15.6 Km)
Established Year : 1930
Gov/private : Government
KazNMU annually trains more than two thousand of specialists in different fields,those who promotemedicine of Kazakhstan.We are faced with the task of training is not just professional doctors,and doctors,scientists who speak several world languages. We develop our own unique training programs.The Universitydaily takes steps to expand its autonomy in order to give the highest quality education students, become amedical cluster for the whole of Central Asia.
Asfendiyarov Kazakh National Medical University, Almati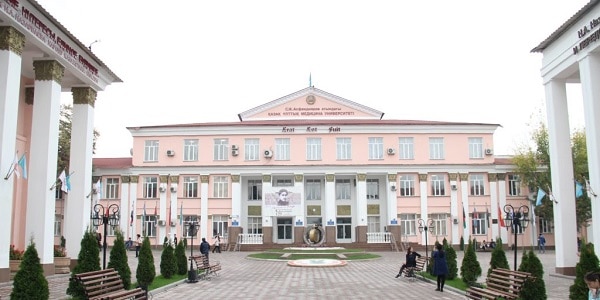 FEE STRUCTURE -2021
| YEAR | TUITION FEE(USD) | HOSTEL FEE(USD) |
| --- | --- | --- |
| 1 | 4500 | 600 |
| 2 | 4500 | 600 |
| 3 | 4500 | 600 |
| 4 | 4500 | 600 |
| 5 | 4500 | 600 |
| 6 | 4500 | 600 |